Frequently Asked Questions about using Oddscracker.com
What is this OddsCracker website?
OddsCracker is a website that helps you compare all the odds for different betting websites easily.
Why is it important to compare odds?
When you bet, you get whatever you bet on, multiplied by the odds, which gives you your total winnings. Therefore you always want to get the best odds in order to maximize your winnings.
OK, but doesn't my favorite betting site have the best odds?
What nobody tells you is that there is no single betting site that always has the best odds. For one game, Betpawa might have the best odds, and for the next game, Betway might have the best odds and so on and so forth.
Is it ever that serious? Aren't the odds very similar anyway?
No, there is a big difference between the odds each betting company offers. You can win a lot more money by always choosing the best odds all the time.
Where is an example of how I can win more money by choosing the best odds?
Let's take for example the game between Brighton and Arsenal. Here is the odds comparison for that game: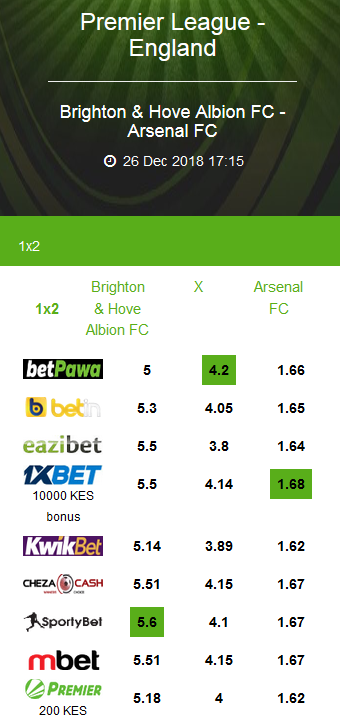 Let's say you wanted to bet on Brighton to win. The lowest odds are 5 (on Betpawa) while the highest odds are 5.6 (on Sportybet). If someone had bet KShs. 1000 using Betpawa they would win KShs. 5,000 while if they had bet that same KShs. 1000 on Sportybet, then they would have won 5,600. The difference is a whole 600 shillings! Comparing odds and always betting on the highest odds could increase your winnings by 30% overall. If you are serious about betting, you know this is a big difference and an advantage that must be maximized.
And what do I do after getting the best odds?
Just click on the highest odds on the specific game you are observing. OddsCracker will take you to the exact page where you can place your bet.
Wow! Are there other ways of using this website to my advantage?
Yes. OddsCracker can also be used to analyze sure bets for yourself, maximize on multibets, compare jackpots and more. For more information on that, subscribe to our newsletter by clicking here.